We specialize in home alarm systems, providing peace of mind and protection to families like yours. Our commitment is to ensure the safety of you and your loved ones, protecting what matters most.
Our home alarm systems use the latest technology to ensure your safety. From intrusion alarms to fire detection and CO2 monitoring systems, we offer a full range of products to protect your home. In addition, our home alarms allow you to control and monitor your regular property from anywhere through a mobile app.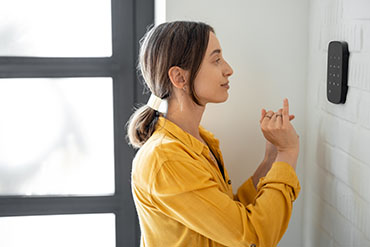 As an integral part of our service, we not only provide high quality home alarm systems, but we also perform the installation and maintenance of these systems. This suite of services provides an additional level of security and peace of mind to homeowners, especially those who may be absent from their property for long periods of time or who travel frequently.
One of the main functions of our service at Red Seguridad is alarm monitoring. When an alarm is triggered, we not only send a remote response, but also deploy a member of our security team to personally verify the situation. This allows us to respond more effectively to security alerts and provide a detailed report of any incidents that may occur.
Installing an alarm system is only the first step in securing your home. That's why we offer exceptional customer service and technical support to ensure that your alarm system performs optimally at all times.
Our technical support team is available 24 hours a day, 365 days a year to answer any questions or problems you may have. Whether you need help setting up your alarm system, have questions about how to use it, or encounter a problem, our team is ready to help.
In addition, we offer a regular maintenance service to make sure your alarm system is always in top condition. This includes checking all system components, updating software and performing tests to ensure everything is working properly.
Contact us through our contact formular